Dr. Tejaswini N.
Bachelor's degree in Ayurveda (A qualified BAMS) doctor and practising since last 6 years
With her vast 6 years experience in Ayurveda and 4 years of experience in Salt therapy, at present she working with the RespiCare Salt therapy centres. She is very dependable, hardworking and responsible doctor. Dr. Tejaswini is in-charge of the RespiCare Indiranagar centre.
Dr. Harshith B.M.
Bachelor's degree in Ayurveda (A qualified BAMS) doctor and practising since last 3 years
He aims at working on the 'Root Cause' of lungs and Skin disorder. Believes in Natural Healing and says that our body has its own Natural power to heal itself. Dr. Harshith B.M. is in-charge of the RespiCare Malleswaram centre.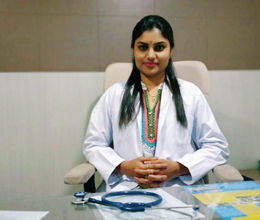 Dr. Ashwini Gowda
BAMS, PGDEMS
She has done her bachelor's from KLE University,  She has to her credit the knowledge of Nadi Vaidya Shaastra from Sri Sri College of Ayurveda and has pursed a Post graduation Diploma in Emergency  Medicine from Medvarsity – Apollo hospital,  With an experience of working in Critical Care Management,  She has extensively  been a part of various medical camps,  seminars and Medical workshops.

My son is 10yr and was on inhaler 2- 3 times daily for asthma. After our 3rd visit, we stopped using the inhaler as his breathing improved dramatically (very noticeable at night when he is sleeping). Now he hardly needs inhaler, only when he has a cold which has been rare. We now visit RespiCare once a week for maintenance.
It's been 4 months now and I am so happy that my son rarely uses inhaler. I would highly recommend RespiCare to everyone.
I was suffering with chronic sinusitis I went to RespiCare and within a couple of days could feel the improvement in my breathing and clearing of my head.
I was having sleepless nights, breathing difficulties and generally a feeling of unwell I had been feeling like this for about 8 weeks.
Within a couple of visits to RespiCare my head and sinuses had cleared and I now have a feeling of well being and calmness.
Dr.Loknath is a pleasant friendly person who makes me feel welcome and each visit I feel calm and relaxed.
By nature I am a sceptic and am very careful what I do, I have found RespiCare, energising and uplifting and without hesitation if I was unwell with the flu or a virus I would do another 12 weeks course at RespiCare.
I have for the first time I can remember had a flu free winter, and I attribute this to RespiCare.
I would without hesitation recommend RespiCare to improve health and well being.
We all have dreams, goals and targets we like to achieve. To some it's better performance at work, to a few it's to travel around the world and their favorite destinations and others who want to lead a healthy and quality life....
read more
Our Registered Office Address
A907, Esteem Classic Apartment, 25/2, Industrial Suburb, Behind Ravindu Toyota, 1st Stage Rajajinagar, Bengaluru – 560 022
+91 959 000 8899
director@respicareindia.com
Spending time in a salt room offers several health benefits, especially for those who suffer from respiratory or allergy problems. Salt therapy patients are ushered into comfortable rooms with state-of-the-art salt treatment room where a dry mist of rich mineralised salts clears your respiratory airways naturally.
Opening Hours
Mon to Sat : Morning : 8am to 12noon  |  Closed : 12 noon to 4pm  | Evening : 4pm to 8pm  |  Sun : 9am to 2pm